Food serves as a way to know so much about the traditions and culture of a place especially for Africans. Each group of people has particular foods, although sometimes cooked with the same ingredients, that distinguish them.
The people of Ghana are no different. As such, experiencing and experimenting with local traditional foods provides an education of the culture, too. They take a lot of pride in their meals and as a tourist, you must make it a point to try at least one of these meals and you will always want to return for another bite of it. Here are 10 must-try foods to consider on your next visit to Ghana.
1. Jollof rice
Jollof, although Senegalese, has gained a lot of ground and popularity in the Ghanaian community. It is a pot dish of rice and tomato sauce. Most Ghanaians enjoy their Jollof with meat or fish. There are a lot of discussions online about the best method of cooking Jollof. It is the easiest meal to find in any home, restaurants, weddings, parties, and even funerals. As a tourist, you must definitely have a taste of it when you visit Ghana.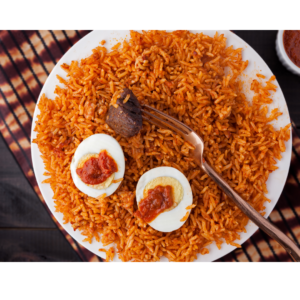 2. Waakye
Waakye is another example of Ghanaians' innovative use of rice. This meal originates from the Northern part of Ghana but you can find it anywhere in the streets of Accra. It's a medley of beans and rice. Most Ghanaian tend to eat Waakye in the mornings, although it is also available at all times and so it is not uncommon to see people clad around a Waakye spot early in the morning. The beauty of this dish is, it can be packed with so many accompaniments, according to the consumer's preference. The combinations are simply endless. You can get a "simple" waakye with spaghetti or you can dig deeper by adding a boiled egg, meat and or fish, wele (cow skin), avocados, coleslaw, gari (finely grated cassava), and fried ripe plantains. You can top these with black pepper sauce or shito and stew.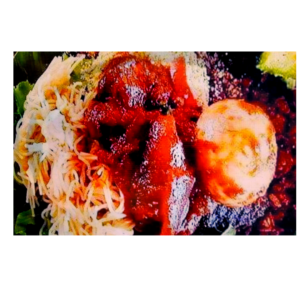 3. Red-Red
Red-red which is a combination of beans with palm oil and fried plantain, thus the name 'red-red' is a filling traditional dish made from boiled cowpea beans and served with palm oil and fluffy, fried plantains. It's one of the few Ghanaian dishes that doesn't rely heavily on spice because the main flavor comes from the ingredients. Red-red is also a great option for vegetarians because it contains no animal products. You may serve it with rice or gari.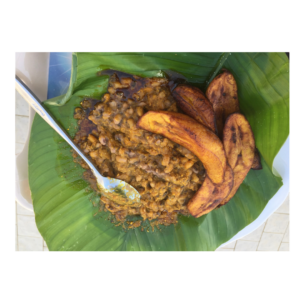 4. Omo tuo (Rice balls)
Omo Tuo (rice balls) are another traditional Ghanaian dish that demonstrates how the population often reinvents the many ways to consume rice. It's basically soft rice that you can enjoy with a number of soups, particularly groundnut/peanut butter soup. You can find riceballs in many restaurants across the country, especially on Sunday afternoons. It seems to be the meal for Sunday afternoons.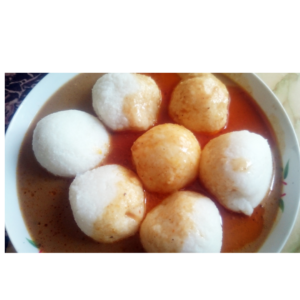 5. Banku and Tilapia
You're likely to find food vendors grilling spicy tilapia on the streets of Accra. It goes well with banku, a Southern dough made from fermented corn and cassava, as well as extremely hot peppers, diced tomatoes, and onions. People who live near the Ghanaian coast eat banku as a main dish. This is a fantastic meal that is both a delicacy and also affordable.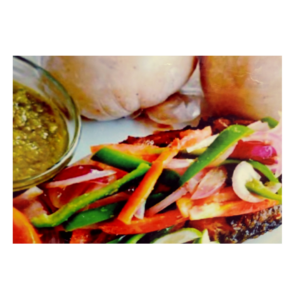 6. Kenkey and Fried fish.
Just like Banku and Tilapia, you can find Kenkey and fried fish on almost every street in Ghana, mostly in the evenings. One can enjoy it with pepper, okro soup, or stew. It is traditionally the food of the Ga ethnic group found in the Southern part of the country but has spread to all other parts of the country. It is very cheap to buy and as such, is eaten by all and sundry. You definitely must try it on your next visit to Ghana.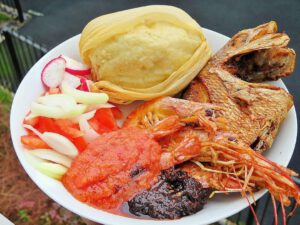 7. Fufu and soup
(Palm nut soup, light soup, groundnut/peanut butter soup, etc.)
This meal, especially fufu and goat light soup, is very popular in Ghana's Eastern and Ashanti regions. The Akan's pride and joy. Fufu is a staple food in West Africa, but it's made in Ghana by pounding boiled cassava and plantains into a soft, sticky paste to serve with aromatic, spicy tomato soup. Northern Ghana has its own version of fufu, which is made with yam. This weekend treat is enjoyed all over the world, with on meals nationwide.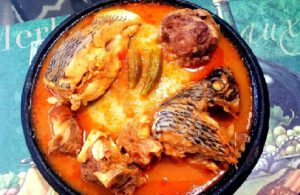 8. Tuo Zaafi
This meal originates from the Northern part of the country but can be found in all regions. It is similar to banku, but less sticky, and is made by cooking corn dough and adding a little cassava. The nutritious and rare herbs used in the accompanying soup, such as Dawa Dawa and ayoyo leaves, distinguish Tuo Zaafi and make it a common minor variation to the core recipe. In any part of the county that you visit, you must definitely try this meal on any afternoon- it is most filling and refreshing.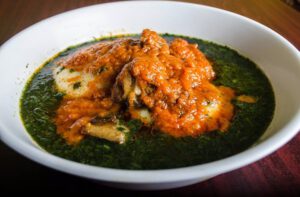 9. Boiled yam/ plantain with kontomire stew
(Also known as palava sauce)
The use of a variety of leaf vegetables, as well as local herbs and spices, is a popular feature of Ghanaian cuisine. Ghanaians prepare kontomire stew with boiled tender cocoyam leaves, salted fish, and boiled eggs. You can enjoy it with boiled yams, plantains and avocados. This dish is a must-try when you visit Ghana.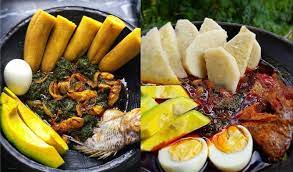 10. Kelewele
Last but not least, is kelewele. This savory side dish is a must-have on any list of traditional Ghanaian foods. Kelewele is a hit with everyone who tries it, including those who aren't big fans of spicy food. You will usually find this delicacy at night in the streets of Accra and other cities. We prepare kelewele by soaking soft plantains in a medley of peppers, ginger, and garlic and frying them in hot oil. The aroma is fresh and solid, with a good plantain flavor that balances out the sourness. We serve kelewele with peanuts or gizzards.