Along the Indian Ocean lies the breathtaking Islands of Seychelles. Many have heard about this beautiful natural wonder and would love to make a meaningful trip there. I paid a visit and was blown away by the powdery white sandy beaches, the enormous tortoises that live around the beaches, gigantic coconut trees, and the way of life of the inhabitants, and many more.
I enjoyed my visit to the Seychelles because the trip was very educative, but I left thinking about ways I could help to maintain or even make this island better for the next generation. This is when I thought of combining sightseeing with volunteering. This write-up is for the culture and history lovers, the ones that need to connect with mother nature and enjoy some good vitamin D and at the end highlight the whole experience with some form of volunteer/charity work.
115 beautiful islands (an archipelago) in one country. The island is home to a variety of endemic species, flora, and fauna. The Republic of Seychelles is in East Africa and the Indian ocean with local temperatures mostly warm varying between 24-30 degrees Celsius. In the capital city, Victoria is where the largest Island of Mahe is found. It is a relatively small country with a population of less than a hundred thousand.
Mahe, La Digue, and Praslin are the three main Islands with the most inhabitants and where most tourists visit. The official languages of Seychelles are Creole, English, and French. Seychelles was promoted by the World Bank in 2017 as an upper-middle-income country which I find very impressive for such a small country.
Experience the Wonders
This write-up is for the people that want to enjoy nature-based activities including fishing, snorkeling and swimming in turquoise blue water, hiking, eco-friendly marathons, green yoga for physical, emotional and mental well-being, carnivals, local dance clubs, good food, Island hopping and in the end highlight the whole experience with some form of volunteer or charity work.
Seychelles equals Sanity   
Soak yourself in the Island Nation of Seychelles for your sanity. Seychelles gives you a ton of reasons why you should and can check this magnificent Island from your bucket list. Here are 7 awesome things to do when you get there. These activities include both paid and free activities.
Powdery white sand beaches and turquoise water.
Make sure you have your swimwear and beach towel readily available when you step outside during your visit. Beaches in Seychelles are rated among the top 10 most beautiful and photographed beaches in the world.
Just as the locals address the beaches, "The beaches in this country are for everyone, there are no private beaches in Seychelles". You cannot visit this beautiful country without taking a swim and snorkeling to catch a glimpse of the different fish species and corals that are found in the water.
Along the beaches are freshly harvested coconut and fresh grilled fish obtained from the sea. The aroma from the grilled fish and local foods sold at the beach makes food readily available for tourists. You can also add to the beach experience by enjoying a picnic at the beach after a swim with the family. Although the sea water is turquoise, you can spot fishes swimming around your toes and to give you a foot massage. This experience is truly magical because you are enjoying a full day of fun and relaxation without breaking the bank. You'll only spend money on food and drinks.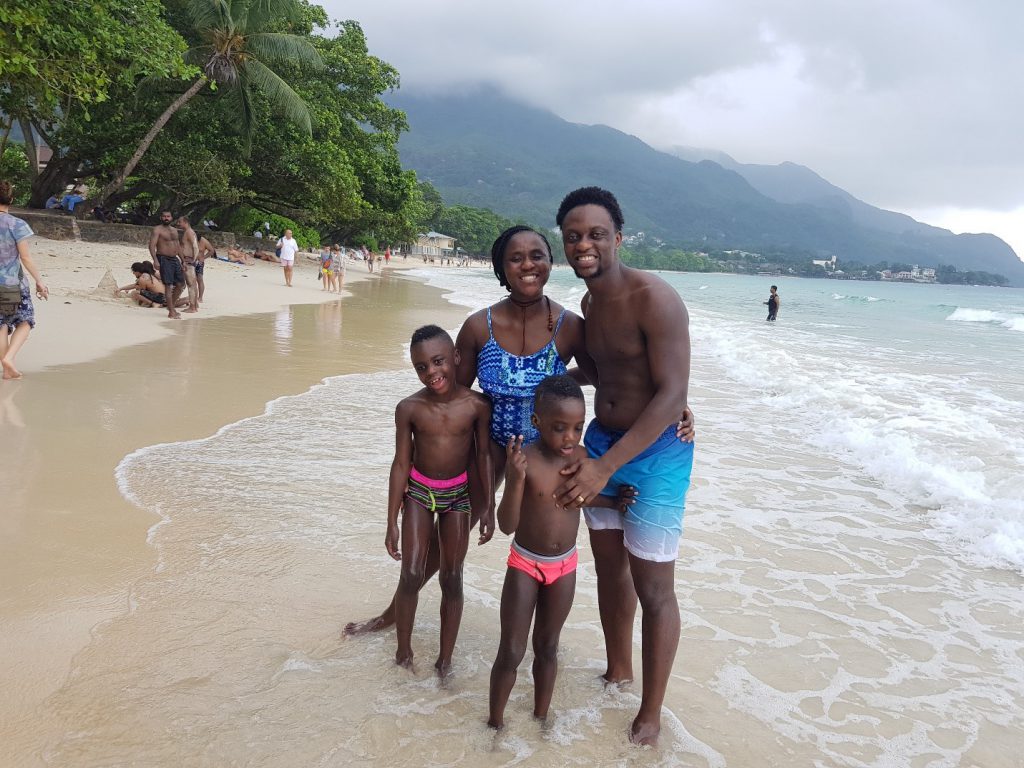 Cycling, bird watching and locating giant tortoises.
This is for the adventurous, sportive and active tourist. On the Island of La Dique, you have the possibility of hiring a bicycle to cycle around this almost car-free island and find uncommon bird species such as the Paradise flycatcher. The friendly locals are your savior when you want to find your bearings. La Dique Island is accessible by ferry from Mahe and Praslin. You can secure a ticket at the ferry station.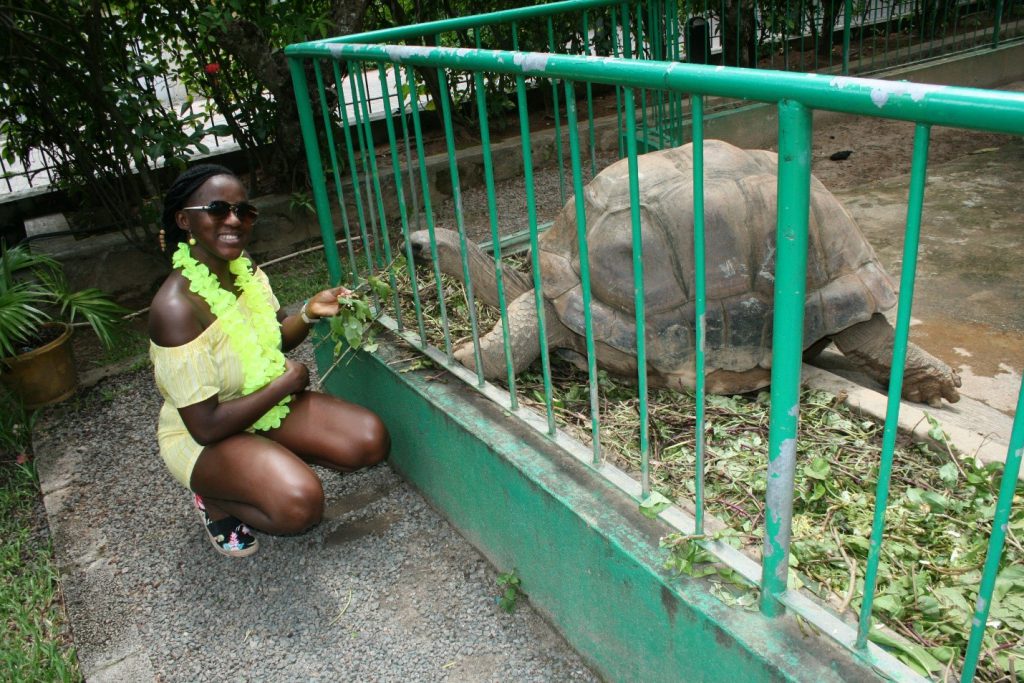 The Marine parks and uninhabited islands
Tourists can enjoy a storehouse off marine biodiversity at these locations. St. Anne is located 21 minutes away from the main island of Mahe. It is where tourists can find one of the best diving and snorkeling spots in the world. Here you can spot rare fish species in a variety of colors and green turtles.
The Cousin Island Nature reserve and Curieuse Island is where you can spot uncommon flora and fauna such as the romantic Fairy Tern birds, Black Parrot, the Giant Aldabra tortoises, and the Giant Humphead Parrotfish. The unmissable Coco de Mer palms are also found here.
Mountain Peaks
This is for the tourists who want to challenge themselves and indulge in different hiking experiences.
Hiking and walking trails in Dans Gallas, Cassedent and Copolia will help you get a few kilos off. The Vallee de Mai trail in Praslin is one of the UNESCO World Heritage Sites in Seychelles. It is also believed to be the original Garden of Eden. It is phenomenal to walk through this trail while observing about 6000 Coco de Mer palm trees, birds and other species. The Coco de Mer palm trees are popular for its way of reproduction which is like that of human beings.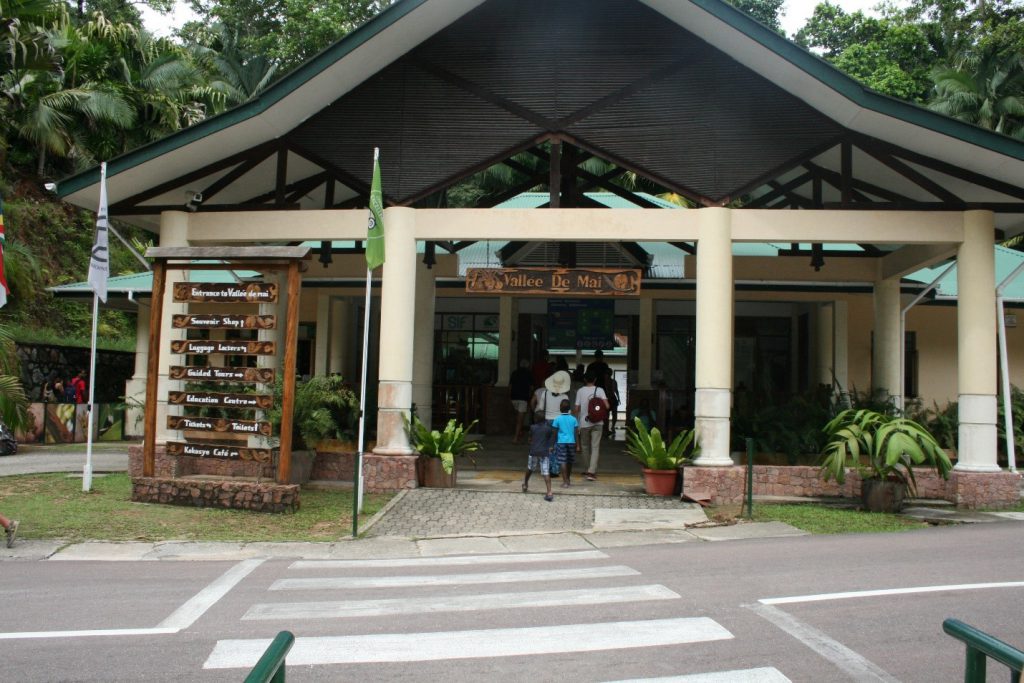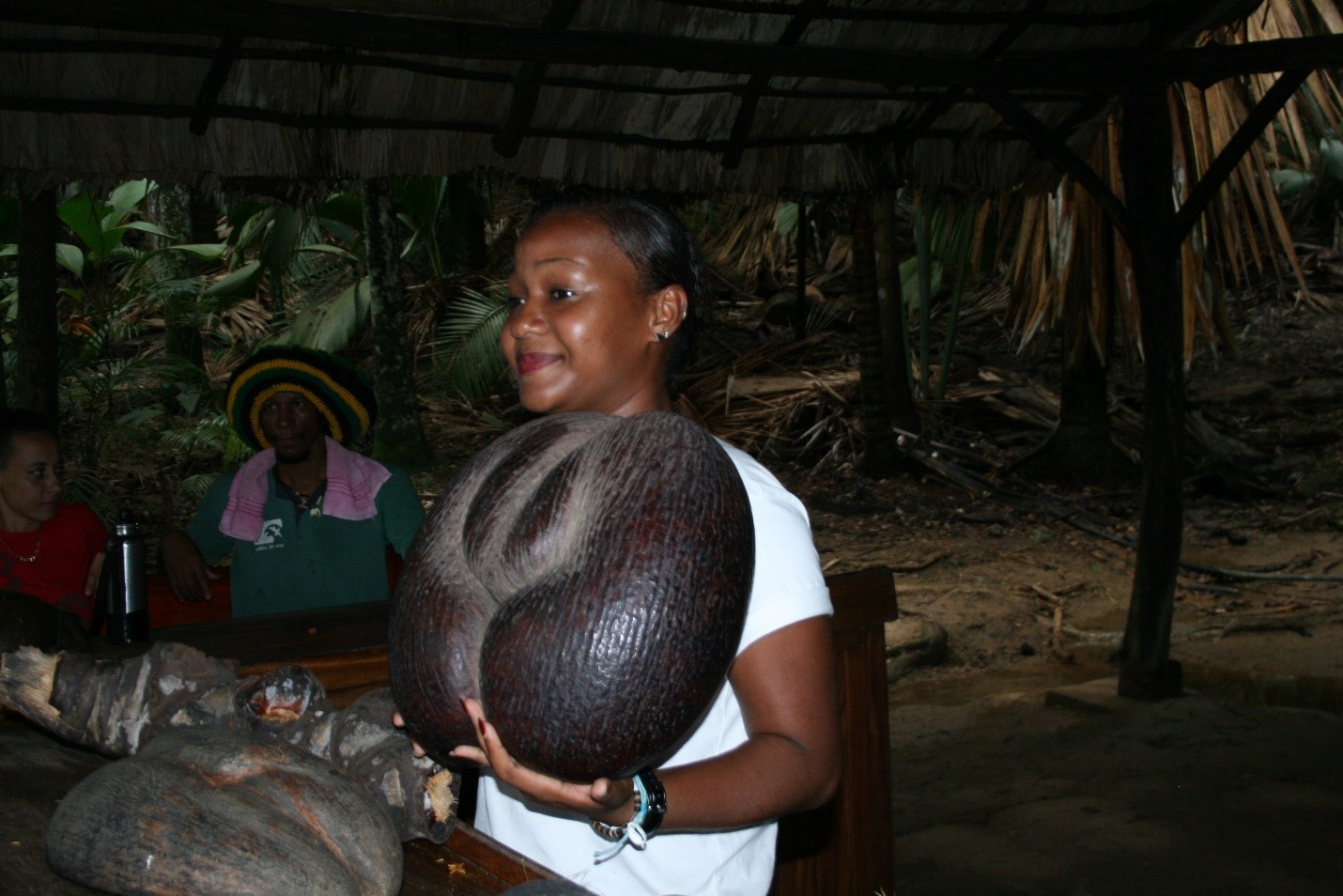 Great views and shopping experiences
Eden Island is a modern city with beautiful architecture and recreation. You can spend time with friends and family over a drink and soak in the gorgeous views. The different restaurants at this location serve amazingly fresh seafood and local delicacies.
My favorite activity during my trip was renting a private boat with a glass bottom that also comes with a skipper to sail you around Eden Island. The boat trip shows you beautiful corals and do some fish feeding. During the fish feeding, you are given bread to throw in the water to attract different, colorful fish species.
For the shopping lover, Eden mall has a variety of shops that aids a great shopping experience.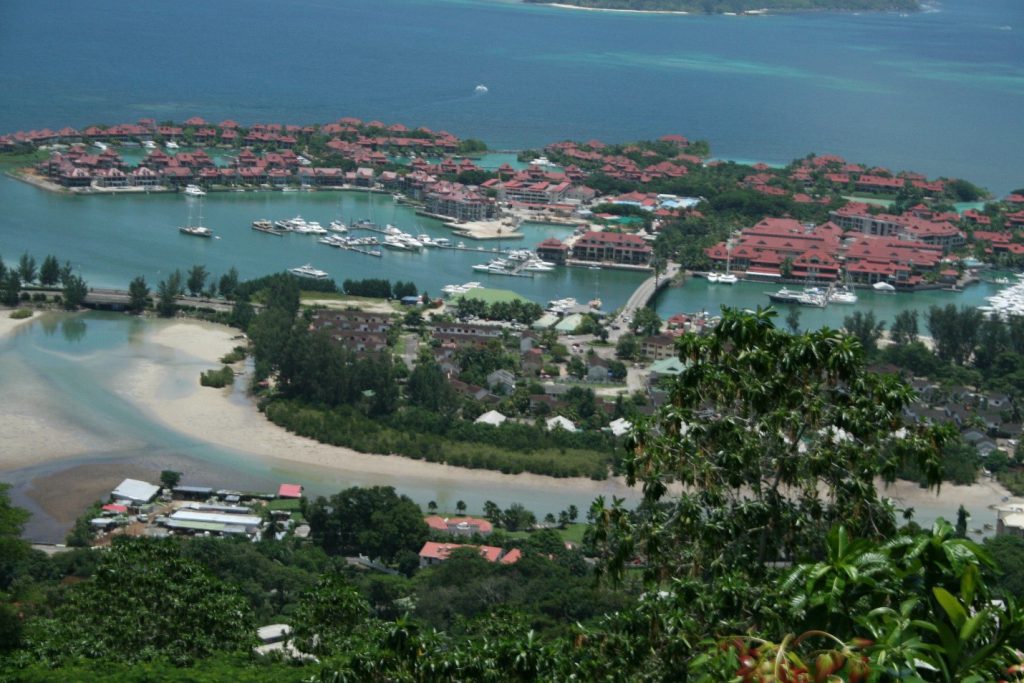 Botanical Garden
The exceptional garden is one of the country's oldest national monuments. The botanical garden boasts of a wide range of exotic, endemic and mature plants planted on five acres of landscape. It is an attractively maintained tropical garden. I will advise you to take a guided tour of this magnificent garden and hear wonderful stories about exotic plants you have never heard of.
The giant tortoises are certainly present during this tour since they live in this garden and you will get the chance to get close to them and take photographs as well. Here some of the tortoises are 150 years old.
Tea Factory
The factory grows and manufactures tea in Seychelles. Located in a cool mountain terrain of Morne Blac in the western Mahe district of Port Glaud, a tour in the factory offers a discovery of locally planted tea and how they are manufactured into tea bags. This tour also includes bird watching, hiking, tea tasting and visiting the tea museum. The location of the factory gives tourists a magnificent view of the island of Mahe.
Volunteer Opportunities
The Island of Seychelles offers different volunteering experiences that will bring an extra dose of purpose to your trip. Below are some volunteer and charity experiences to consider.
Conservation boot camp on Cousin Island Special Reserve (CBC) – this innovative program gives you an on-the-field conservation experience. Participants help to monitor eco-tourism and biodiversity. You will get a unique opportunity to be on the field to learn about conservation and add your contribution to the island's conservation activities. You get the opportunity to cohabitate with the wildlife that live on the island. This volunteer work is done for a maximum of 4 weeks and a registering fee of 1000 euros.
Seychelles Island Foundation (SIF) – This organization provides direct opportunities to get involved in Seychelles to facilitate a better world. Activities include donations and fieldwork for a few months.
Volunteering in a Children's home ­– Existing children's homes in Seychelles includes the President's Village, a state home managed by the National Council for Children, Foyer de Nazareth, Foyer la Solitude and Foyer de La Providence. These homes are open for donations in cash or kind when you visit them during your trip.
The meaningful marriage of sightseeing and volunteering
Here are the reasons why you should combine sightseeing and volunteering.
You get the opportunity to unwind and soak yourself in the serenity and beauty of Seychelles.
See and experience new cultures
Develop a new skill while volunteering which can improve your life
Discovering more about yourself and your capabilities
Make new and lifelong friendships
Lose weight and get fitter
Learn a new language
Have a sense of fulfillment of facilitating a better world
Acquire an overseas work experience
Volunteering can help develop self-confidence
Focus on career objectives and later aid a career
Take a deep breath, let us buy a ticket without breaking the bank from sky scanner, and take a PURE VACATEER (VACATION+VOLUNTEERING) to Seychelles Island.
Do you need expert advice on a 'Vacateer' (Vacation+Volunteering) to Africa?
Are you seeking a travel experience in Africa tailored to your preference?
Do you need us to plan your itinerary by laying out the activities for your trip to an African destination + hours, days or months of volunteering to make your trip more meaningful?
Please send us an e-mail via: panford@africanculturetrip.com
We are glad to help you.
Did you miss our write-up about Africa's Best Volunteering Experience? Have a read here.