Around the globe, Ghana is known for so many positive reasons. Talk about the rich culture, minerals, sports, tourism, and many others. Ghana has earned its great reputation through maintaining a stable democracy resulting in fast development in all areas. We are here for tourism and culture.
Ghana welcomes you (Akwaaba)
The year 2019 Ghana welcomed the largest number of tourists around the globe to taste and feel the welcoming nature of people and their way of life. Their trip has alerted many others to embark on their journey to the continent. This article is to confirm your thoughts on going and also guide you on what to do when you are there. Read further to get insight into where and what to engage in when you first arrive in Ghana's capital, Accra.
The trip most people will dare to do
Why do I say visiting Ghana is a trip many will dare to do? Ghana is located in the Western part of Africa. Its southern cities include its capital Greater Accra, Volta, and the Central region, which are beautifully lined along the Atlantic Ocean to give you direct access to tropical beaches, fresh coconut, and delicious seafood.
Talk about the welcome feeling you experience away from home. This experience is what many call 'home away from home'. I will assure you of your safety as a visitor. The inhabitants always find it very necessary to help you find your way around. A local will show you the easiest and best way to find your bearings while tasting, feeling and wearing Ghana.
Ghana, the side you have never seen
Let me go ahead and give you a rundown on what to do when you arrive in Ghana's capital city. This information will benefit first-time travelers, business travelers, students, Africans living in the diaspora, the wandering and nosy traveler and all who want to experience the rich and welcoming culture of Africa. Below, I have outlined 11 exclusive locations to visit in Accra. I have chosen these locations because as a native, I have personally visited these with friends and visitors. Based on my personal experience and reviews from others, these locations were very educational, entertaining and are known to bring a sense of purpose when you engage in some form of voluntary or charity work. Many as well had a deeper connection with the location depending on their reason for travel; either adventure, connecting to their roots or just to have fun.
11 wonderful locations to visit when in Accra (Ghana)
Independence Square (Photo credit Year of Return)
National Museum (Photo by Adansisem)
Osu Castle (Christianburg Castle) Photo by Armenyl and Osu Castle (Christiansburg castle) Photo by Stellashanelly
Kwame Nkrumah Memorial Park (Photo credit Tribaltravelclub)
Kwame Nkrumah mausoleum (Photo credit Ahima Jewelry)
Bojo Beach (Photo credit Carica)
Labadi Beach
The Art Center (Photo credit AkwasiRicky)
The Makola Market (Photo by Adrien Horridge)
James Town
Hamamat African Village (Museum and Spa) (Photo by Hamamat)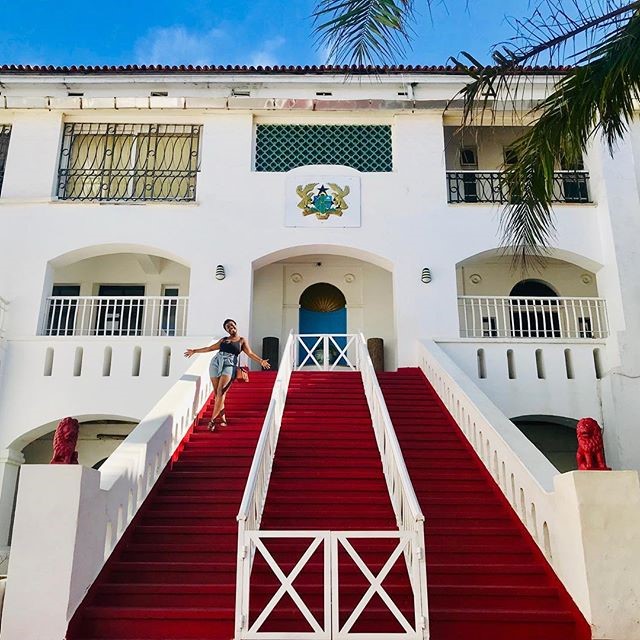 [ngg src="galleries" ids="3″ display="basic_thumbnail" thumbnail_crop="0″]
Tours that benefit the poor
Embarking on a trip like this does not only enlighten you about the way of life of different people around the world, it also contributes to the better development of the local community. For example, all the technicalities involved in making your stay an enjoyable and memorable one is a great advantage to yourself and the community. Purchasing souvenirs in the form of arts, crafts, spices, and other merchandise at the Art Center and the Makola market are of great benefit to the traders.
Volunteer and Charity work
I am very passionate about giving back to the community when we visit a destination. To me, this helps to make the trip a fulfilled and memorable one. You can leave the destination with a sense of purpose knowing you have made the destination in one form or the other better than it was before. Check out my post on why it is important to volunteer or do charity work in Africa.
Below are authentic volunteer and charity non-profit organizations to consider when in Accra. Note that on many occasions you can arrange/negotiate together with these organizations concerning the form you want your volunteering or charity work to take. It may range from donations to clean-up exercise, a day to observe the needs/problems of an organization to help solve them in the future, just to mention a few scenarios.
Crime check foundation – This organization is involved in official medical assistance for sick and old inmates and other support services to prisoners. They organize various forms of donations to support prisoners in Ghana and educate the public on the consequences of crime through the screening of life in prison documentaries. Read more on how you can help out here.
Autism Ambassadors Ghana – The Autism Ambassadors of Ghana is a social enterprise (NGO) that brings professionals and volunteers together to create more awareness on Autism and also helps to improve the lives of children living with Autism through technology. It was founded in June 2014 by Miss Alice Mamaga Akosua Amoako, a Digital Social Entrepreneur. More information on this organization.
Osu Children's home – This home provides care and shelter for 250 vulnerable and orphaned children and youth between the ages of 0-23. The Home relies heavily on donations from kind-hearted individuals, organizations and the general public since the government cannot do it all. I believe we can start the change we want to see to ensure a positive change into the lives of others through sightseeing and volunteering or charity work.
You have every reason to embark on your trip to Ghana
Allow yourself to see, feel and taste Ghana. You will be greeted at the airport in their local language with 'AKWAABA' meaning welcome, and you can respond, 'MEDAASE' meaning thank you. The experience of Ghana is amazing, therefore give yourself the chance to partake in all there is that Ghana has to teach and add on to your life, and if possible, you can also add to the country through charity or volunteer work. I believe that traveling to other parts of 'the world is like reading a whole book instead of just a page' (Saint Augustine). See you there!
Perhaps use the original quote here? "The world is a book, and those who do not travel read only a page." – Saint Augustine.
Do you need assistance with a tailored travel itinerary to Ghana?
Do you need help to plan a trip that fits your budget?
Do you need assistance with donating to a reputable organization in Africa?
Do you want to engage in volunteer work in Africa?
Get in touch with us. And follow us on Instagram and Facebook.