MY FIRST INTERNATIONAL TRIP AS AN I8 YEAR OLD
This write-up is for the hesitant traveler, for the mama's and papa's who are afraid to allow their children to travel to Africa, the student who is in a fix to travel internationally for an internship, for the female solo traveler who has traveled the world except to Africa. This article will inspire you to book that flight and move.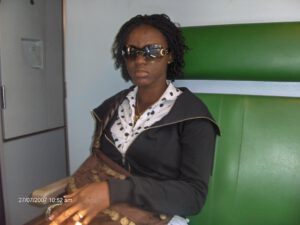 Travel plays a significant role in our social, emotional, and physical development. The vulnerability, shock, loneliness, newness, and disorientation, all come together to teach you and help you evolve.
THE EXCITEMENT WAS GREAT
I was 18 years old and I was so excited about my first international trip. It was time to finally travel alone. Those days we did not have the opportunity to find information on Google since we did not have access to the Internet. I had to rely on friends who had made that same trip concerning what to expect. My mother said "watch and do what others are doing on the plane".
I could not wait for the time to come for me to get on the plane. I packed my luggage more than a month before the actual day of departure. After what seemed like unending days, the day came for me to depart from Ghana. (I will announce my final destination later). We traveled for four hours with public transport form Kumasi, the second-largest city in Ghana to the Kotoka International Airport (the only airport in Ghana for international departures).
PARTING WAYS WITH FAMILY
My whole family including two aunties and an uncle traveled along to the airport. They gave a long preaching session all the way from Kumasi till we got to Accra. (You have got to love my African family). Take a wild guess, what was this preaching session about? "Take care of yourself, do not talk to strangers, pray a lot, take part in doing the house chores", etc. The whole family took turns to advise me on what to do. I wanted to know more about what to expect during the flight and the country that I was visiting, but my family did not know much.
I waved them goodbye and entered the airport with all the enthusiasm in the world. I followed all the protocols and before I knew it I was on the plane. As mama told me to do, I watched what others were doing and did the same. I fastened my seat belt and braced myself to take off. It felt like it was taking too long for the flight to take off. It had been over an hour when the pilot announced that we were waiting for the final signal before we could take off.
CRUISING IN THE AIR
Taxiing to take-off was nerve-wracking. I shut my eyes until I could hear what seemed like a smooth ride in the air. I believe an hour or so had passed. I opened my eyes to find other passengers watching a movie on the screen above my head. I also saw the flight attendants sharing drinks and snacks from a food trolley to the passengers. Suddenly I realized I was sitting by the window. How was it possible that I did not see this until a few hours into the flight?
It was a night flight and there was little I could see through the window. The airplane cruised into the darkness. The air hostess came by and I requested a snack, a cup of soda, and a small package of a warm meal. I thought to myself, "I want a can of soda and some more rice, this food will not be enough for a 10hour flight". I asked for more but it was all I could have. I only had an option to buy extra food. I had no idea, I would have had a proper dinner at the airport.
I dived into a deep sleep an hour or two after my meal. Although the meal was not enough, I had no choice but to go to sleep since most of the passengers sitting around me were snoring. Shutting my eyes was my best option. I opened my eyes to a beautiful sunrise between the clouds. I took the opportunity to visit the washroom when the people sitting next to me had gotten up to stretch. It was a tiny washroom and could barely do my thing. I managed to get my business done and walked to my seat. Shortly after, the pilot announced that we should brace ourselves for landing.
MISSING A CONNECTING FLIGHT IN NEW YORK
Immediately we touched down, many of the passengers started clapping. I opened my eyes and clapped along. Apparently, they were applauding the pilot for a safe landing. We were asked to remain seated since our gate was being prepared for a safe exit out of the plane. The air hostess announced that we were not permitted to use the bathroom but remain seated. We had been waiting in our seats for almost 30 minutes when some passengers started protesting that they wanted to get up and use the washroom. The air hostess said it was still not allowed. In between the argument, the pilot announced that we could get out of the plane. We could all finally get up, get our hand luggage, and go to the gate to connect our next flight to our final destination.
THE NIGHTMARE
I run to the gate to catch the connecting flight to my final destination since I was late. It was almost empty at the gate and I thought to myself, "I will be the first to get on this flight". I went straight to the counter to check-in. "The flight has departed" hurled the flight attendant. I dived into a great panic. I started shivering. It was eleven pm at night. I handed the flight attendant my boarding pass and she told me that I would have to continue my trip the following day. I stared at the lady, without saying a word, my words failed me. The lady at the counter explained that our flight had departed because we did not arrive on time. She handed me two vouchers for dinner and breakfast and directed me to a shuttle waiting outside which would take me to my hotel.
TRAVEL WITH POCKET MONEY
There were other passengers who had also missed their connecting flight and were also directed to the same hotel and shuttle. I joined another elderly lady whom I saw as a mother figure to walk to the shuttle. We got outside and realized that the shuttle had departed. I started to sob. The lady consoled me and advised that we both take a taxi and share to cost of the trip (Thankfully I had pocket-money on me). I agreed and we took the taxi to the hotel. It appeared that the hotel was about 20 minutes away from the airport. We paid the taxi driver and walked into the hotel. We checked-in and I parted ways with the lady and made my way to my room. I was so tired and wanted to retire to bed after about 14 hours on the road.
BEING DISORIENTED
I arrived at my door and it would not open. I remembered that the receptionist said I should insert a card which was supposed to be my room key at the door to my room. I inserted the card several times but the door would not open. I sat in front of the door to decide my next move. It was midnight already and the hallway was empty. I decided to go back to the reception to ask for help but I realized I had lost my bearings and thought it wise to just wait by the door till someone passed by so that I could ask for help.
It felt like a few hours had passed before a tall, lankly, bearded man came walking by. I immediately stood up, afraid to ask but felt it was my last chance to get the door open and go have some sleep. The man was glad to help. He inserted the card just once and the door opened. I thought to myself, what did I do wrong? I inserted the card the same way as the man did but I did not achieve any success. I dared not to ask how he managed to get the door open. He gave me my key, I thanked him and walked away.
THE PANIC
As I walked into my room for the night, I stood behind the door and prayed that the good Lord will not allow this weird looking man to enter my room and harm me. How on earth could I have taught so evil about a man who saved my ass from sleeping in front of my hotel room door? I decided not to close the door entirely since the door could get locked and prevent me from catching my flight the next morning. How naïve could I be? I placed my luggage behind the door to prevent it from opening entirely. I remembered I had a food voucher for dinner and breakfast. I dared not to go outside. I lied down on my bed and partially shut my eyes. I was tired but could not fall asleep. Poor me!
A few minutes had passed and the telephone in my room rang. I thought, "who might this be?". I hesitantly picked up and to my surprise, it was my dad. I started weeping. I told him my whole ordeal, and he said "Maame, this is the reason I arranged for this trip. It is part of the experience. Just be open to learning". At the time I thought my dad was going nuts, but it makes a lot of sense now. Daddy assured me to lock my door, take a shower, set the alarm, and go to sleep. Having dinner was no longer possible. The hotel restaurant was closed. Daddy assured me that everything was going to be fine and that he will be waiting for me at the airport the following day.
GETTING CLOSER TO HOME
I was wide awake before the alarm went off. I got ready and headed downstairs to have breakfast. I had to make use of my breakfast voucher, besides I was famished. I enjoyed my breakfast. It was my first ever buffet and I overate. I met a few passengers who were going to be on the same flight as I was so we all gathered together and rode to the airport on the shuttle. I was finally making my way home.
Check-in was smooth. Before we knew we were on the flight heading to the final destination. I was happy since it was estimated that we would get to our destination in two hours. We landed and I proceeded to customs. Afterward, I headed for the baggage claim to get my suitcase. I walked for 45 minutes but the carousel was nowhere to be found. I was so exhausted and hungry so I took a seat somewhere at the airport.
I then asked a lady sitting next to me if I was anywhere close to the baggage claim. She requested to have a look at my boarding pass which I made available. She laughed and told me to get on a train which would arrive in a few minutes. "A train does a train ride inside this airport" The lady stared and directed me to get on the train as it arrived. She told me to get off at the last stop as and when the conductor announced.
THE FINAL HURDLE
The train rode for about 15 minutes before it announced that everyone should get off. I couldn't have missed this announcement. I ran off the train still overwhelmed, "how could a train ride inside an airport". I turned one final corner to find my luggage on the carousel. It was the only luggage, and I quickly picked it up and headed outside. It was exhilarating to finally get outside knowing that I was had made to my final destination.
THE ULTIMATE REUNION
My next challenge was to locate my dad, who had promised to be at the airport to meet me. I looked everywhere but could not find him. Not again, I thought. The first thing that came to mind was to call him. I went to the phone booth to try but it accepted only coins that I did not have. I sat on a bench outside the airport and went into deep thought. What was I going to do next?
I located a woman standing not very far from me talking on the phone – I knew this woman might be able to call my dad for me. I asked her and she agreed to help out. I mentioned the telephone number to her and she dialed. She handed me her phone when my dad answered. I directed him to where I was and he located me the next minute. He was apparently standing close to the elevator showing my name on a board. I missed it.
A MEMORABLE TRIP
I was glad to meet my dad. It was a great reunion. We sat at the nightstand till midnight while I shared my whole ordeal. Dad said once again, "Maame, this is the reason I arranged for you to visit me all the way from Ghana to Atlanta, Georgia at 18, without a direct flight, to enjoy the whole experience and learn something new." I gave my dad a hug and retired to bed.
This trip was a great experience. I wrote a lot in my journal about the people I met, places I visited, the food I ate, the way of life of the people, and finally all the lessons I leaned.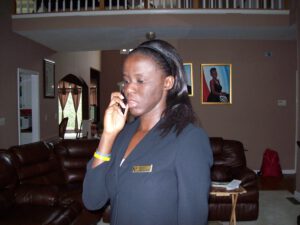 REFLECTIONS
My first International trip has shaped my life in many ways. It has reflected in my decision-making in areas like my choice of studies, school, relationships, career, and even writing this article. I know this article will help give you perspective in the area of travel and decision making.
Set the stage for greater things. Get out of your comfort zone and embrace new challenges. It is the only way to grow and expand your horizons.